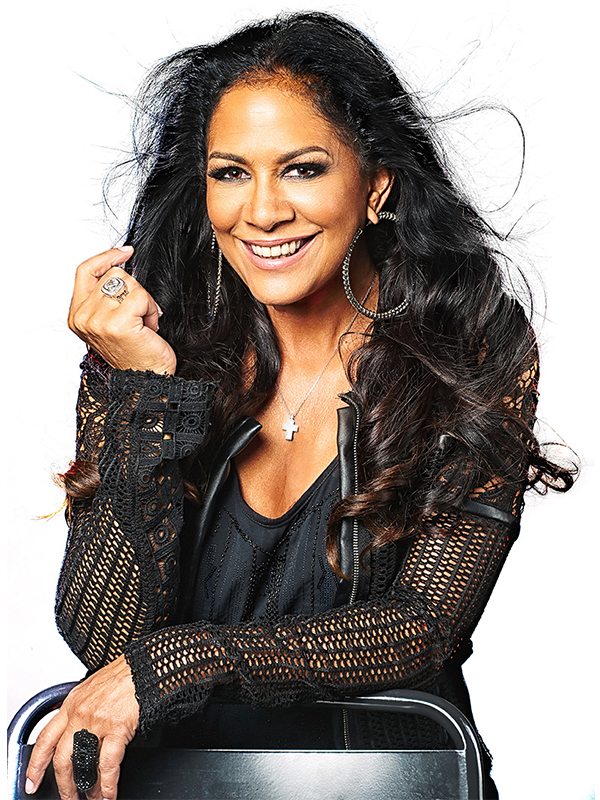 A world-class drummer, percussionist, singer, songwriter, entertainer, author, humanitarian, mentor, actress—Sheila E. is a dynamic public figure who has been driven by a steadfast inner rhythm since the day she was born. "Before I had language, I had rhythm," she writes in her recently-published memoir, The Beat Of My Own Drum. "I learned it before I learned my mother tongue."
When Sheila gave her first public performance at the age of 5, there was no doubt in her mind that she was going to be a percussionist. Music, rhythm, and a passion for connecting with others were in her blood, after all. "I wasn't just born into an environment with music; I was of music," she writes. Fifty years later, Sheila is still sharing her passion with others through her newest album, Icon.
Growing up in the Bay Area, Sheila was surrounded by all types of music since birth—introduced to Latin jazz, Motown, R&B, pop, and funk by her musical family members and family friends. Her early influences include percussionist dad Pete Escovedo; musical uncles Santana member/Azteca founder Coke Escovedo, recording artist Alejandro Escovedo, The Dragons frontman Mario Escovedo, and The Zeroes member Javier Escovedo; as well as godfather, Latin star Tito Puente.
Born Sheila Cecelia Escovedo in 1957 in Oakland, California, Sheila wasn't always the glamorous superstar we know today. From an early age, though, she knew one thing: she loved music. This love fueled her childhood and adolescent endeavors—from performing with her dad at the age of 5, to playing percussion in a local band in high school, to touring with Azteca in Colombia as a teen.
It didn't occur to Sheila during this time to make a living off of something she was so passionate about. In her memoir, she recalls a conversation with her dad about compensation for performing. "Why would I accept money to do something I love?" she asked. To which, he replied: "If you are serious about choosing music as your career, you deserve to get paid, and you need to get paid. Never feel ashamed of being paid for doing something you love."
Early in her career, Sheila met Prince backstage at a show—who helped light a fire that led to the launch of her solo career. At the age of 25, Sheila began writing songs and experimenting with different types of music. Playing the drums and keyboard and singing her own vocals, Sheila taught herself how to record a demo using equipment she'd purchased herself.
After lending her vocals on Prince's hit "Erotic City", the two worked together to produce her first album, The Glamorous Life. Unlike any other '80s artist, Sheila combined her Latin, jazz, R&B, pop, and rock influences to create her own unique style for the album. The album's title track made the U.S. top 10, with the entire album reaching number 28 on the U.S. Billboard 200.
It was during this time that Sheila Escovedo officially became the iconic Sheila E. we know today. What was once a childhood nickname—due to her peers having trouble pronouncing or spelling her last name—became her stage name, revealed on her debut album.
Over the years, Sheila E. became a household name: as a singer-songwriter, entertainer, and icon. She became not just one of the best female drummers, but one of the best drummers of all time. For Sheila, her career has never been about making money or becoming famous. It's been about passion—about the butterflies she feels every time she picks up a drumstick or steps in front of a microphone. "I realized that the day the butterflies are gone is the day I'll stop playing," Sheila writes in her memoir.
A musical powerhouse, Sheila has worked with some of the most influential musical acts over the past five decades: Ringo Starr, Marvin Gaye, Prince, Beyoncé, Herbie Hancock, Diana Ross, Lionel Richie, Gloria Estefan, George Duke, and more. She's recorded 7 solo albums, acted in several films, and pursued philanthropic projects that are near to her heart. These include co-founding the Elevate Hope Foundation and Elevate Oakland.
With such an exciting and trailblazing career spanning five decades (and showing no signs of slowing down), it's impossible to put Sheila E. in a box. The iconic artist has a passion for music, for inspiring others, for evoking change—and enjoys incorporating these into her life and career by any means possible. Whether it's pouring her heart into a live performance, putting her inner thoughts into song or book form, creating a foundation to support others in need, or sharing her story with people of all ages across the globe, Sheila seeks a personal connection with each audience.